Travel can be such a PAIN. What are you doing to measure traveler wellness?

Bala Chandran
I used to travel a ton in my past life in consulting – I remember waking up every Monday morning at 4am to catch my 5:30am flight, and getting back home on the late flight on Thursday night. A few months into the project, I would have given anything for an extra hour of sleep.
Travel burnout is real. According to a YouGov survey on behalf of NexTravel 20% of travelers say that travel has a negative impact on their mental health, and an ARC survey showed that 15% of road warriors are burned out or close to it.
Given the increasingly competitive employee hiring/retention landscape, measuring and managing traveler wellness is becoming a big concern for travel managers. Lumo can help.
Last year, we introduced Lumo Spotlight, a reporting dashboard to help measure travel burnout and the impact disruptions are having on your business. Over time, we've learned what factors matter most to travelers and have aggregated these factors into our Passenger Aggregated INconvenience (or PAIN) index.
Here's how the Lumo PAIN index is calculated:
First, think of the easiest flight you could take: a short, nonstop flight that isn't delayed or cancelled, that leaves and arrives at a reasonable hour. It's an easy, no-stress flight. Let's say that causes one unit of travel PAIN.
From then on, we layer in incremental PAIN based on the duration of the flight, whether the itinerary involves a connection, whether the flight was delayed or cancelled, if it was a red-eye, if the traveler had to make multiple time zone changes, and so on. Each incremental factor gets an additional amount of PAIN (which can be configured by the travel manager). We then add up all the pain across all a traveler's flights, and report out on PAIN trends by traveler.
The Lumo PAIN score is displayed on an aggregate level across your travel program, so you can see how it's trending by region, airline, junior vs senior employees, new hires vs experienced road warriors, etc.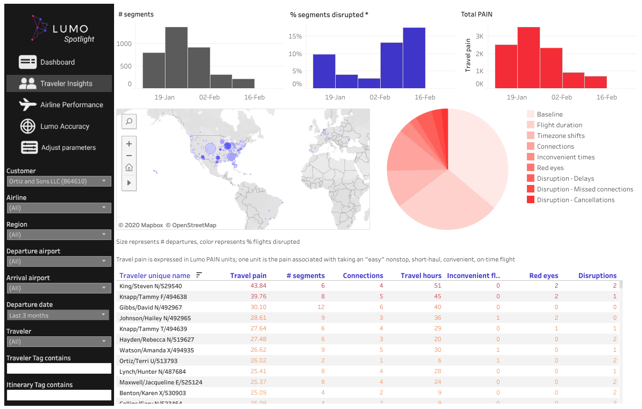 Lumo Spotlight also ranks your travelers by Total PAIN (see what we did there?) and allows you to drill down to a specific traveler to see the components of their PAIN score so you can take better care of them. If you're an HR manager looking to engage soon-to-burn-out employees, the Lumo PAIN score can be a valuable advance warning system.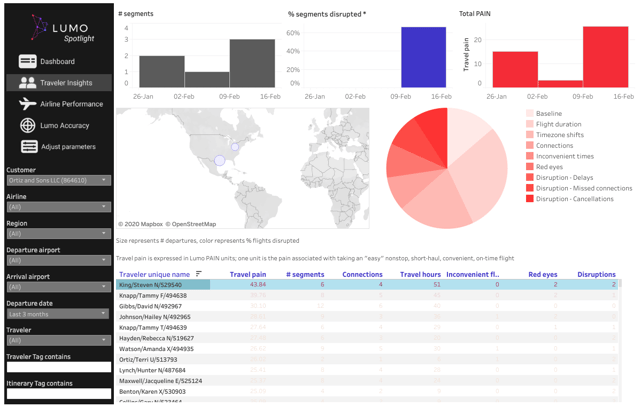 Travel managers can now adopt a data-driven approach to managing traveler wellness, and can create a business case for changes in their travel policies that address travel burnout.
Obviously, this doesn't measure every factor associated with burnout, such as the quality of hotel amenities, but it's a start. If you're a travel manager trying to measure traveler wellness, we'd love to chat!
Get in touch with us to learn more.