Lumo now has health alerts and COVID stats

Bala Chandran
The nature of travel has changed, and so have travelers' and travel managers' expectations of technology. We are doing our part to help manage travel in these complicated times.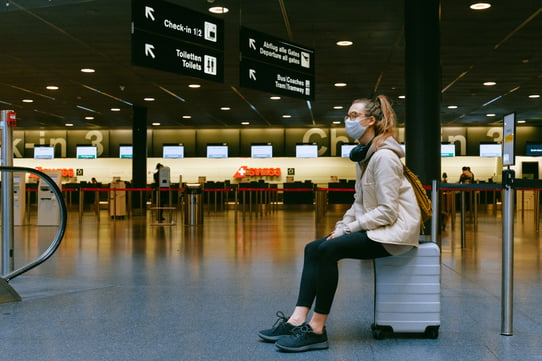 Lumo's data now includes health alerts and safety advisories from various government agencies including the US Department of State, Centers for Disease Control (CDC), the US Overseas Security Advisory Council (OSAC), detailed daily COVID stats, and more.
Delivered through the Lumo API and Lumo Navigator, the health alerts strengthen our commitment to providing our partners and travelers with the most reliable and useful information to help make better booking and rebooking decisions.
Helping make better booking decisions
COVID data is now part of the Lumo flights API, which returns travel advisories as well as our COVID risk rating (which is based on the trend of new reported cases) and daily deaths/cases over the past month. This data is updated daily, and can be used to alert travelers about potential COVID risk at the time of booking.
An example of how this data might be used is in the Lumo Browser Extension for Concur, which overlays Lumo's data over the Concur booking tool.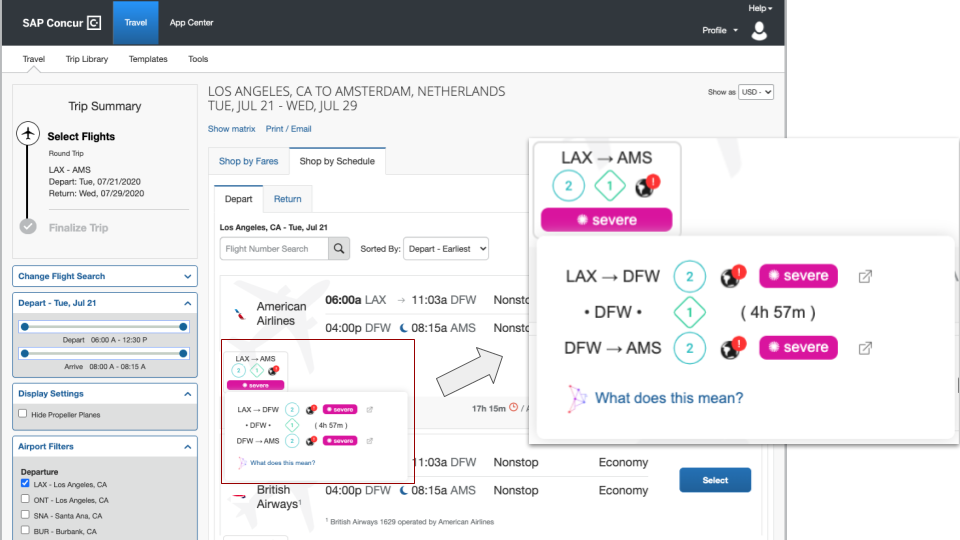 The data shows that Lumo estimates a low risk of delay (Lumo Index 2), a low connection risk (1) but a severe COVID risk. The traveler can then click through to the Lumo site where they can view more detailed risk information including travel alerts and charts on the number of cases/deaths at the country or county level.
For example, Lumo Navigator displays all the health alerts for the origin (DFW) and the destination (AMS) issued by the US, Australian, and Canadian governments, as well as trends in cases/deaths; the severe risk rating is driven by the trend of cases at DFW.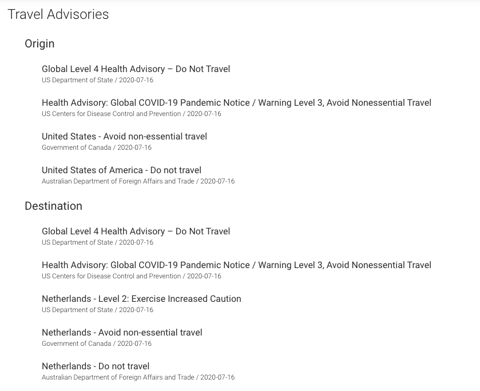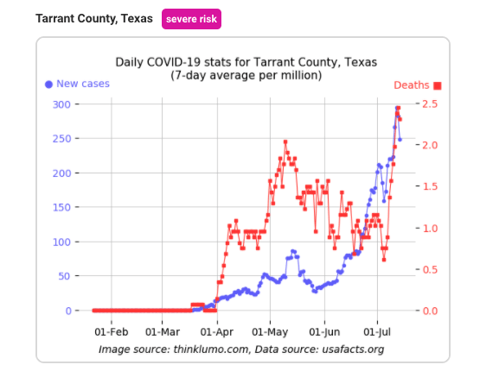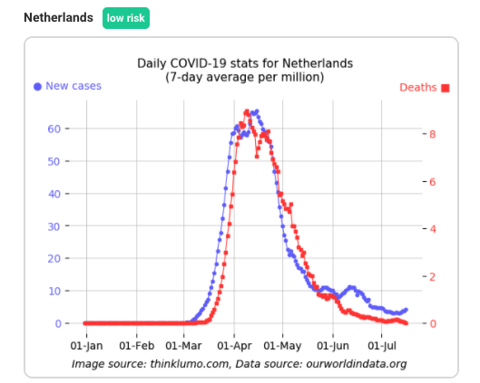 Keeping travelers and travel managers informed
Lumo pushes alerts through the API, email, slack, and other channels as events change. The alerts include real-time flight data (from OAG), our proprietary disruption predictions, airline waivers, severe weather alerts, etc. In addition, Lumo now pushes alerts when the COVID risk of a trip changes to travelers can proactively avoid destinations or connections that may be seeing a spike in cases.
Lumo also sends daily reports to travel managers and TMC agents to help identify travelers scheduled to fly to/through high-risk areas over the coming week.
What does this mean for you?
Whether you're a traveler who wants to stay informed, a travel manager trying to manage duty of care, a TMC looking to deliver better service, or a travel tech provider looking for product differentiation, Lumo can help. Get in touch, we'd love to hear from you!