Travel is back! And so are flight delays.

Bala Chandran
I'm ecstatic that we're starting to fly again. The travel industry has taken a beating, and it's nice to hear optimism in conversations once more. As travel returns, so too have delays, cancellations, missed connections, and more, so I thought I'd give you a sense for what the recovery looks like, and remind you of why you still need Lumo when you fly. If you are a data nerd like me, read on. For the rest of you, here's the highlight: travel is growing but is still down 40%, even in the US where the vaccine rollout has been robust, but delays are back to 2018 levels.
Volumes are still down, but delays are up
A fairly good metric of whether delays are up (other than actually looking at delay data) is to look at Google trends data for the term "flight delay". The data below from Google shows that after several months of being fairly stable, search interest in flight delays has gone up, especially in the past few months. We know that thunderstorms across the US have caused significant disruptions lately, especially in large hubs like Dallas, Charlotte, and across several airports in Florida.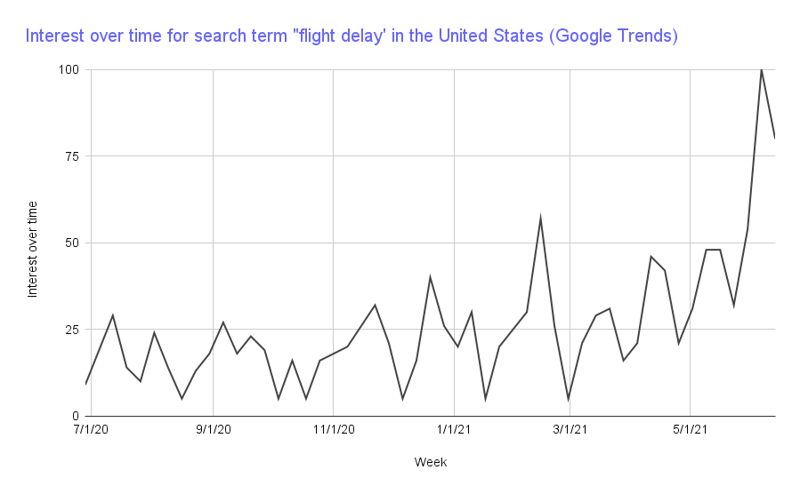 Using data from OAG (shout out to a great partner!), we looked at the number of flights that operated over the past several years. (A quick caveat - these numbers may not represent the entire schedule of all aircraft globally due to reporting gaps but should represent 90+% of the actual volume).
The lines show the volumes by month for years 2018 through 2021. While travel has bounced back significantly , it is still only at ~60% of where we were in 2019 (the green line represents 2021).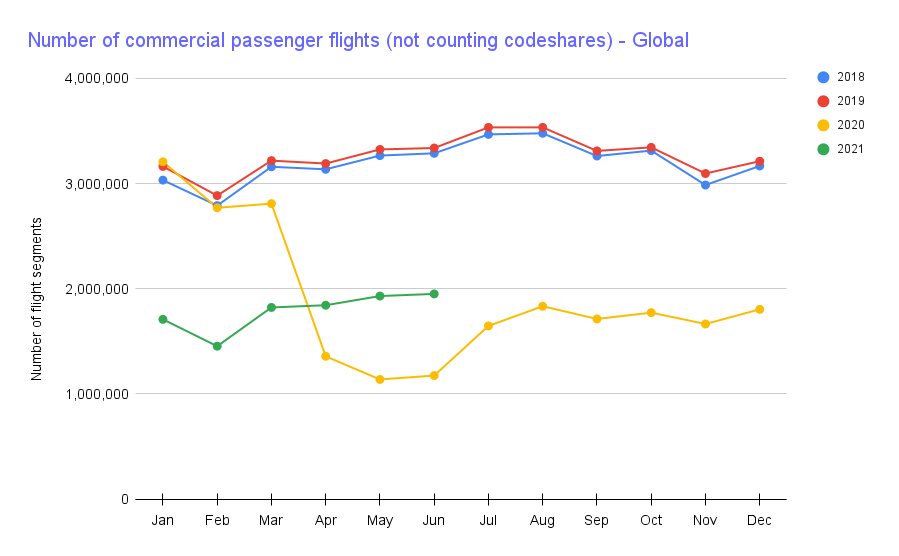 Even the US, which has seen a robust vaccine rollout and lifting of restrictions, is still ~30% below where we were in 2018 and 2019.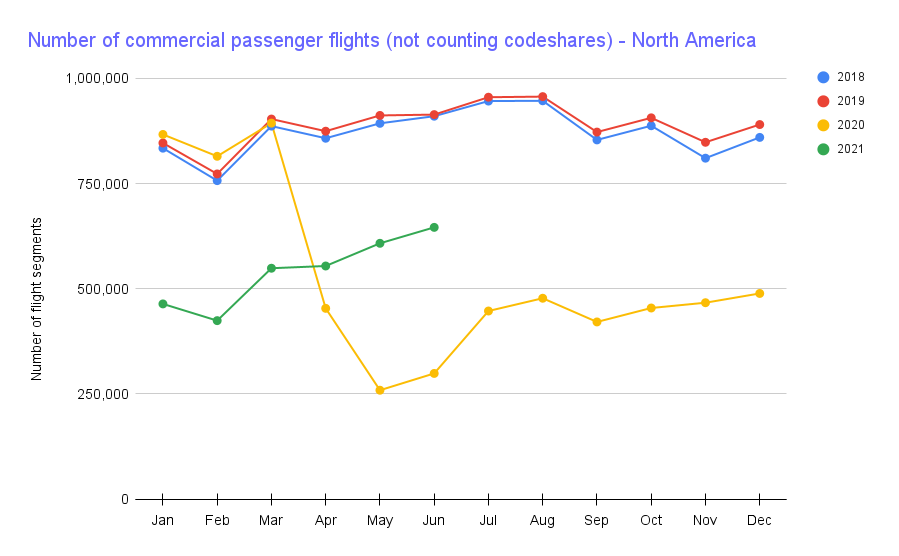 Next we took a look at the fraction of flights that were severely disrupted (i.e., either delayed by 1 hour or more or cancelled). The big spike in Mar & Apr 2020 was due to COVID, and the fraction of flights severely disrupted in 2021 is greater than it was in 208 and 2019. Obviously, COVID-related cancellations continue to be a big factor so it's not an apples-to-apples comparison with previous years.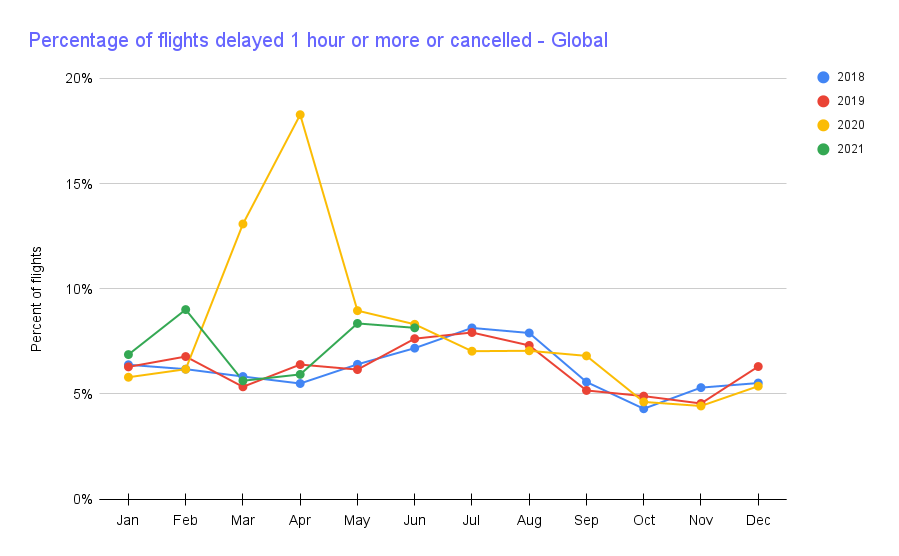 If we strip out cancellations, i.e., we only look at severe delays on flights that actually ended up flying, a trend emerges. While 2020 was a great year for delays, the fraction of flights delayed in 2021 (green line) has caught up to 2018 and 2019 level in spite of of the significantly lower volume. We might have expected that fewer flights meant there was more slack in the system to mitigate delays but that does not appears to be the case.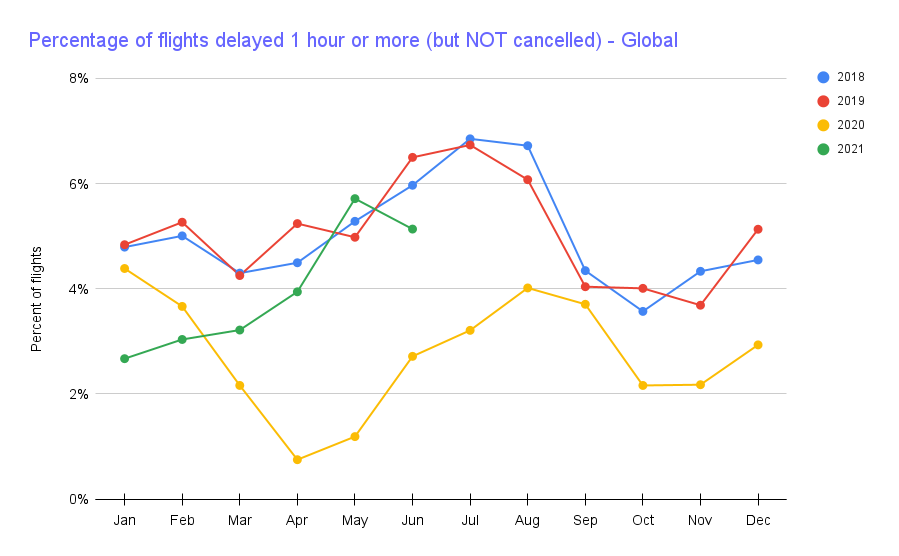 Replicating the same analysis just for North America shows a similar pattern – the green line has caught up to 2018 whether we include cancellations or not.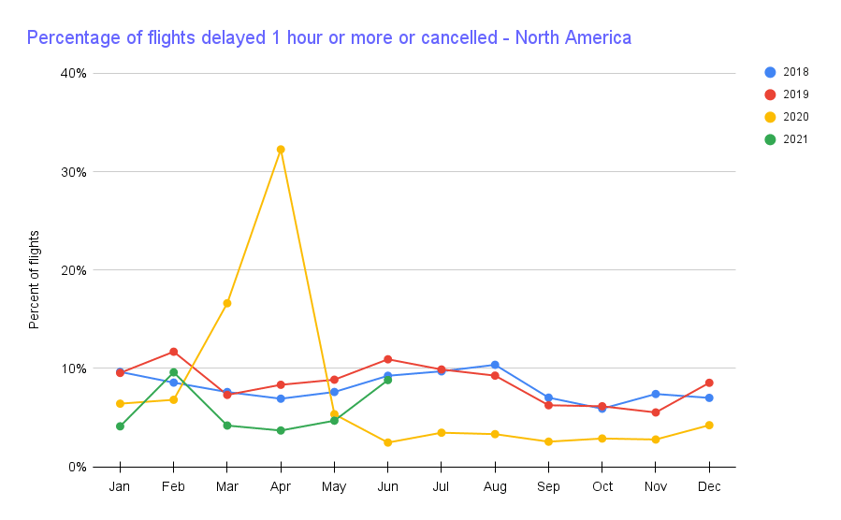 What is particularly striking is that the delays are growing much more rapidly than the volume; this is partly a seasonal trend where the summer sees higher delays because of weather events. However, it also points to the fact that airlines are less equipped to manage delays due to staffing shortages and the difficulty of coping with increasing demand after a brutal year.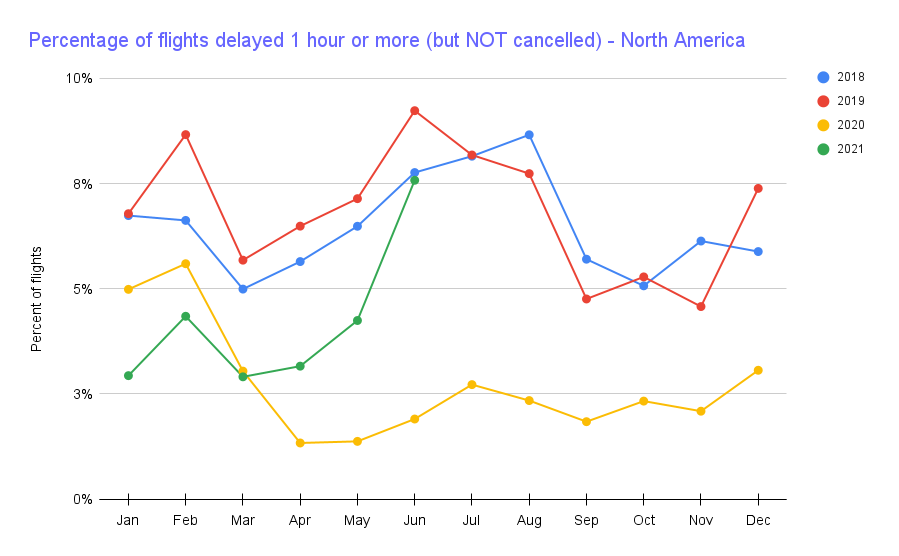 The only exception to this appears to be Europe, where delays this year are significantly lower than in previous years. This is somewhat consistent with the cause of delays in Europe; while Asia and North America see weather-related delays in the summer, Europe's summer delays are mostly caused by the volume of holiday travel. Fewer flights means fewer delays.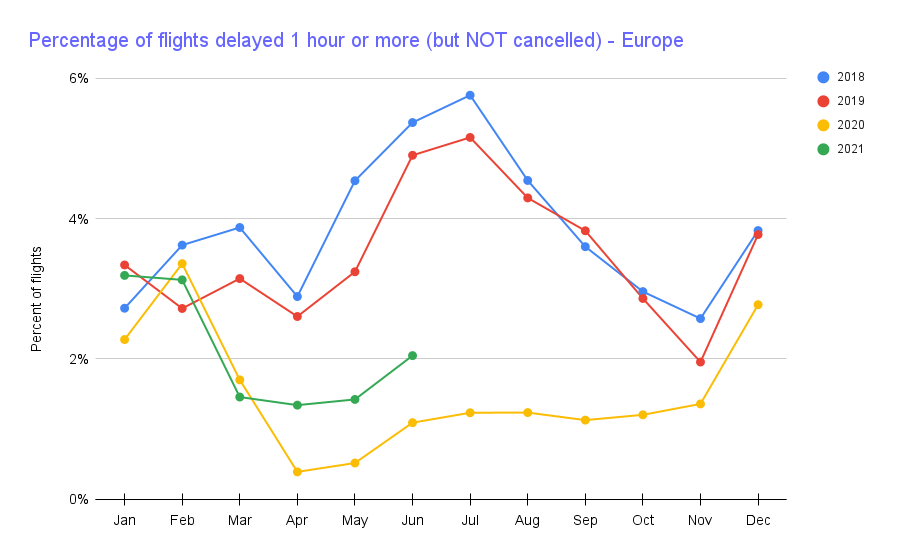 So what can you do about it?
Delays happen. But many of them are predictable given weather, volume, and the schedule. Lumo's AI-powered flight delay predictions constantly forecast where the bottlenecks are likely to occur and how delays are likely to propagate through the system. Here are a couple of examples from flights taken by our customers in the past month.
United 4376
Since Lumo monitors the weather, inbound data, air traffic control restrictions, and more, Lumo sent the passenger an alert saying that there was a high risk of delay because of airport conditions at Houston. Lumo even estimated that the traveler had a 50% risk of missing the connection, even though the flight status said the flight was on time.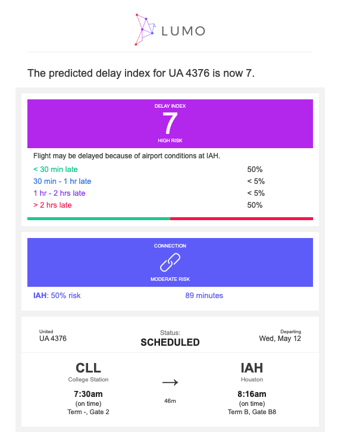 Since we monitor the inbound flight delays as well (the "domino effect"), Lumo alerted the passenger that the inbound was severely delayed and could cause a flight delay.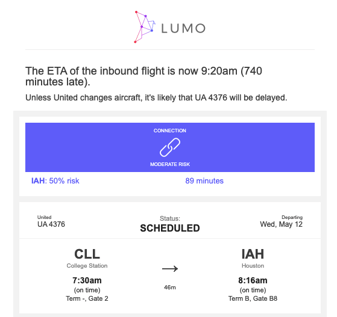 Sure enough, the flight was subsequently delayed, and the passenger would have missed the connection had they stay on the original flight. Even if they didn't switch flights, there is value in knowing about a delay before it happens to help plan for it.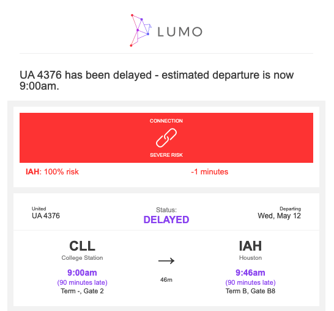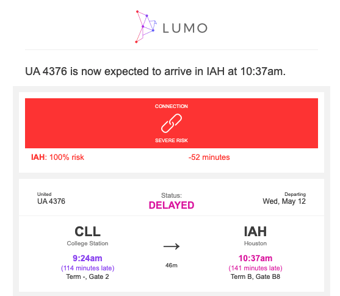 United 4376
In another example, Lumo alerts the traveler that there might be a delay because of a late inbound flight and airport constraints.

Since we monitor flight plan information in the US, we were able to let the traveler know that their flight was at a high risk of being cancelled (even before the flight was officially cancelled by the airline), which gives the traveler a few minutes of a head start on everyone else to get on another flight.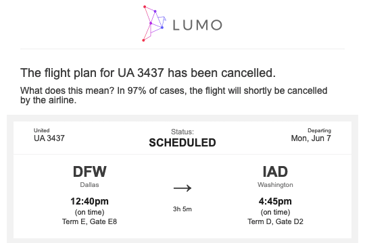 The flight was eventually cancelled.
How Lumo can help your travelers
Lumo takes the guesswork out of delays. Your travelers have enough to worry about with COVID, quarantine rules, and more. Asking them to keep track of the weather, inbound flights and more is simply too much work. Lumo can help take some of the stress out of delays to keep your travelers well-informed, happy, and productive on the road. Whether you are a travel management company, an itinerary management app, or a travel manager, Lumo has solutions to help you stay a step ahead of disruptions. Contact us to find out how Lumo could help you and your travelers.