Worried about that connecting flight? We crunched the numbers so you don't have to.

Bala Chandran
I see you – leaning halfway out of your seat before the plane lands so you're ready to grab your bag and sprint to make your connecting flight – and I'm here to tell you it's going to be ok. Lumo is here to help.
At Lumo, we recognize that not all delays are created equal. A 30-minute delay on a nonstop flight may not matter much, but could be the difference between making your connection or not on a connecting itinerary.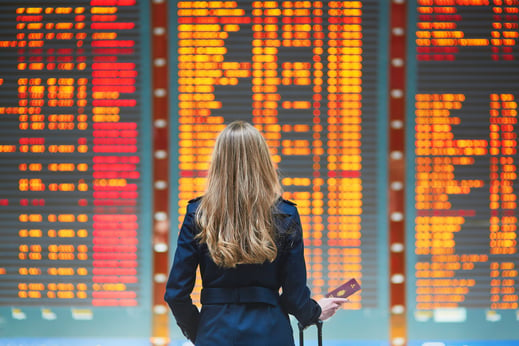 Lumo can predict the likelihood of delay and a missed connection to help you make more informed booking and rebooking choices. We also deliver the data through APIs to help our travel tech and insurance partners build better products.
So how do you choose better connections?
Longer layovers are better, but there are diminishing returns. This sounds obvious but it's complicated math. The difference between a 30-minute connection and a 60-minute connection is huge. For example, 19% of flights were delayed by 30 minutes or more into ORD during the 2018 holiday season while only 10% were delayed by 1 hour or more, which means giving yourself the extra 30 minutes to connect could cut your connection risk almost in half. However, there is only a marginal difference between a 2-hour and a 3-hour layover.


Not all connections are created equal. It depends on the airport, airline, terminals, etc. For example, the minimum connection time (the minimum time it takes for you to get from one gate to another and for the airline to move your bags from one flight to another) for one airline (AA) at one airport (ORD) for domestic-to-domestic flights alone can vary from 30 minutes up to 75 minutes depending on the arrival and departure gates. If your terminal and gate information arent available when you book a flight, look up which terminal your flights have historically arrived at and departed from to get a sense for whether you might need to change terminals.


The airport and season can make a huge difference. For example, comparing delay statistics across four United hubs – EWR, IAH, ORD, and DEN – for the 2017 and 2018 holiday seasons shows that while IAH and DEN had relatively low rates of 1-hour arrival delays (6%), ORD came in at 9%, and EWR at 13%, which can significantly alter the calculus in connection risk.
If sifting through all that data sounds daunting, it is. That's where Lumo comes in. Our machine learning algorithms factor in historical flight performance, seasonal effects, differences by airline and airport, weather forecasts and travel alerts, real-time flight data, air traffic control information, and minimum airport connection times, to quantify the likelihood of a delay and a missed connection.
The data is available through Lumo Navigator and through our APIs. Whether you're a traveler or a travel agent trying to ensure a smoother trip, a travel tech provider keeping your customers informed, or an insurance company looking for quantitative estimates of connection risk to help underwrite policies more effectively, Lumo's data can help.
Get in touch with us to learn more, or sign up for our app – it's free to try!